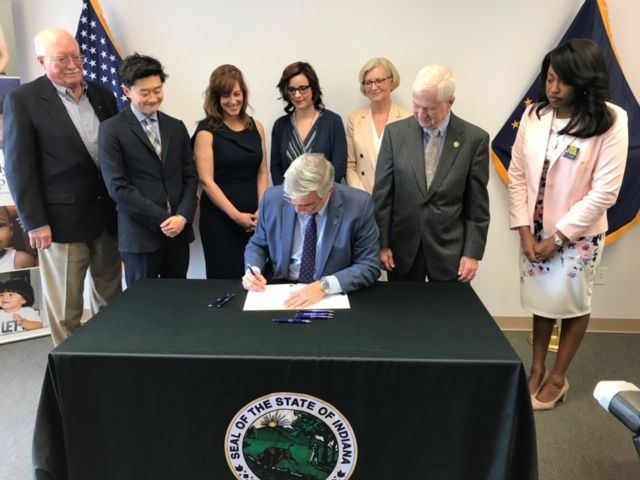 STATEHOUSE (May 8, 2019) – State Sen. Ed Charbonneau (R-Valparaiso) today joined Gov. Eric Holcomb for the ceremonial signing of House Enrolled Act 1007.
Charbonneau sponsored HEA 1007, which requires the Indiana State Department of Health to establish a Perinatal Navigator Program that engages pregnant woman in early prenatal care and refers them to available services, such as home visiting programs.
The goal of this program is to begin addressing Indiana's high infant mortality rate by improving care for pregnant mothers and their child.
"While many of the economic development bills we passed in the legislature can be described as game-changers, HEA 1007 is a life-changer," Charbonneau said. "Indiana has one of the highest infant mortality rates in the country. Therefore, it is imperative that our state addresses this issue, which HEA 1007 begins to achieve. This bill will help pregnant mothers and their children receive the best care possible, and I look forward to seeing the positive impact this will have on our state."
HEA 1007 also requires health care providers to use a verbal screening tool for substance-use disorder with all pregnant patients. To provide the best care for the mother and her child, the tool should be used as early as possible at the onset of prenatal care and throughout pregnancy.
Additionally, to maintain confidentiality, providers may not disclose the results of these screenings to law enforcement or the Indiana Department of Child Services unless required by a court order.
HEA 1007 takes effect July 1, 2019.
-30-
Click here for a high-resolution photo of Charbonneau.