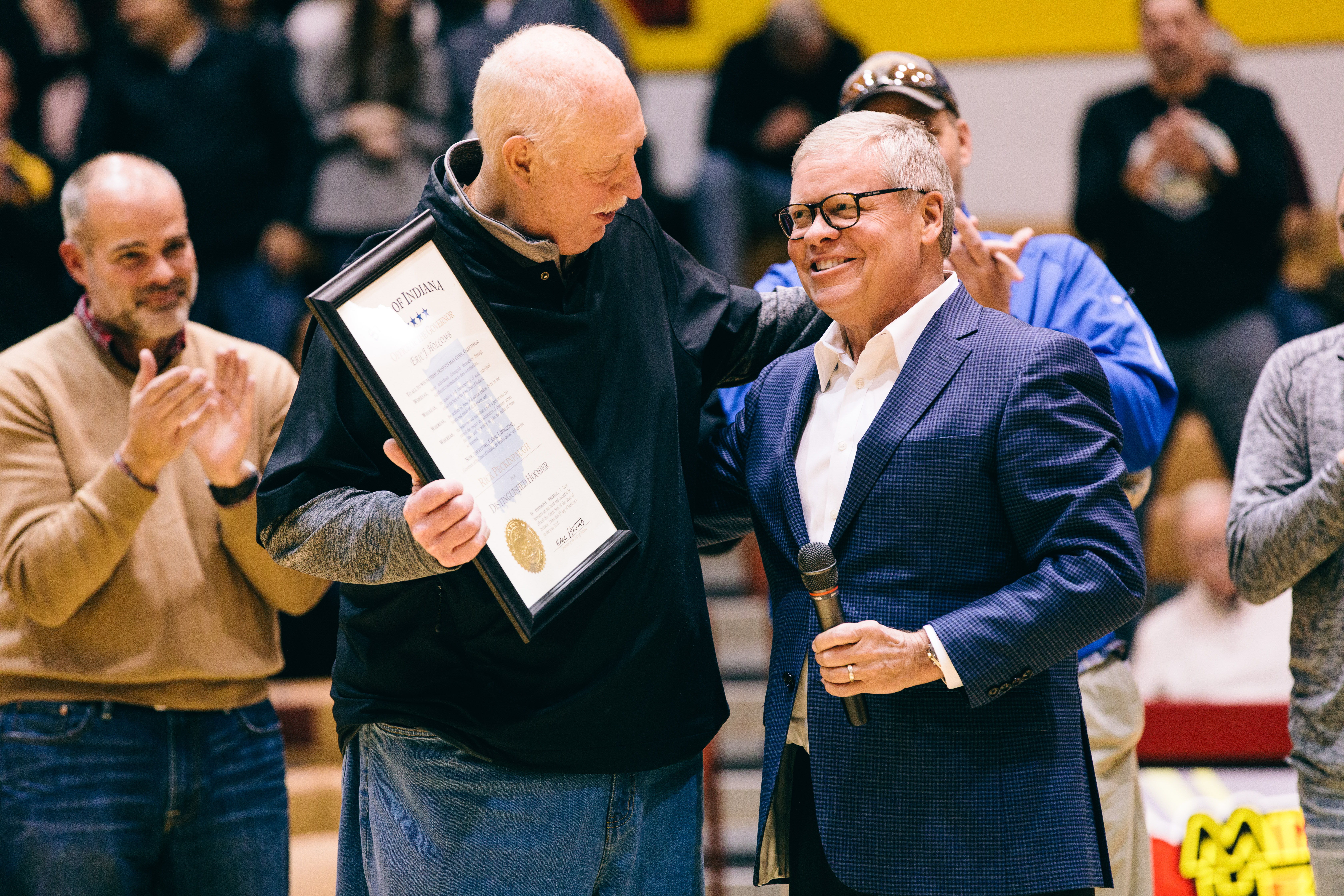 STATEHOUSE (Jan. 8, 2018) — State Sen. Ron Alting (R-Lafayette) presented Rick Peckinpaugh, McCutcheon High School math teacher and basketball coach, with a Distinguished Hoosier Award Saturday, Jan. 6.
"Rick was not only an incredible teacher, but also an outstanding basketball coach and such a positive influence to all who have passed through the halls at McCutcheon," Alting said. "Tippecanoe County is lucky to have him as a member of our community. I wish him and his family the best as he goes into this next phase of his life."
Peckinpaugh retired at the end of the 2016-2017 school year after 32 years of service with the Tippecanoe School Corporation.
Peckinpaugh began teaching and coaching at McCutcheon High School in 1985, where he earned a reputation as an outstanding teacher, and was twice named McCutcheon High School Teacher of the Year.
In his coaching career, he ranks 24th in Indiana high school basketball history in victories and has a career record of 539-332 in 38 seasons overall. As a coach at McCutcheon High School, Peckinpaugh compiled a 477-269 record as head basketball coach, earning 12 sectional championships, five regional championships, and a Class 4A state runner-up finish in 2016.
The Distinguished Hoosier Award is one of the highest honors given by the State of Indiana to its citizens. The award is granted at the discretion of the governor to outstanding residents for their accomplishments and contributions to their communities.
-30-
For a high-resolution photo of Sen. Alting, click here.

Contact: Lauren Beatty, Press Secretary
Lauren.Beatty@iga.in.gov
317-234-9221