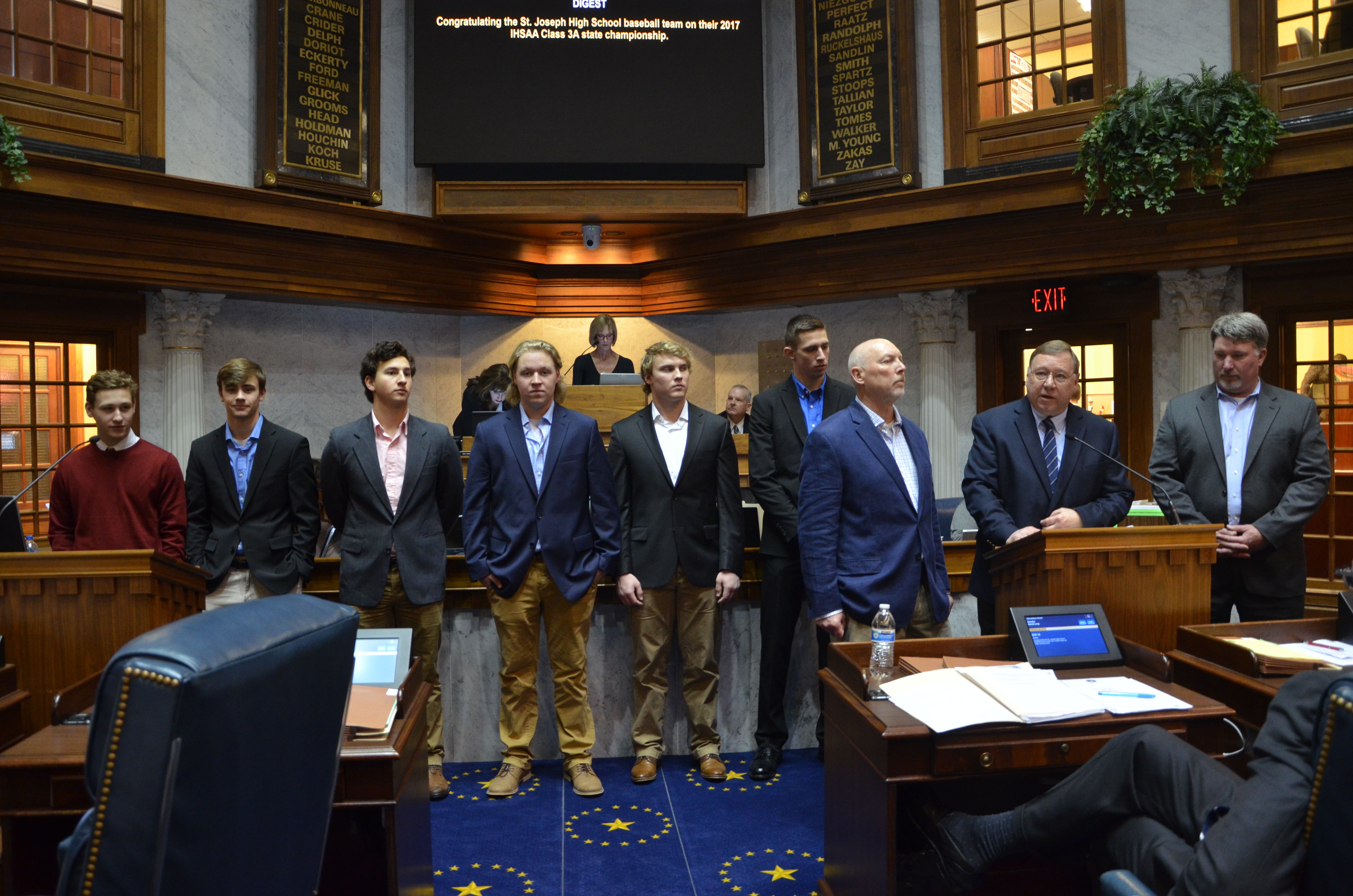 STATEHOUSE (Feb. 21, 2018) — The Indiana General Assembly recently honored the St. Joseph High School baseball team with Senate Concurrent Resolution 16, authored by State Sen. Joe Zakas (R-Granger), on their 2017 Indiana High School Athletic Association (IHSAA) Class 3A state championship at Victory Field in Indianapolis on June, 17, 2017.
St. Joseph defeated Jasper High School by a score of 4-0. Senior pitcher Michael Dunkelberger led the team to victory by pitching a complete shutout game, and only allowing 3 hits.
The team made history with their first appearance and first state championship win for the baseball team and are the first South Bend team to win a baseball title since 1970.
"These athletes balanced countless hours of practices and games on top of a full academic course load," Zakas said. "Members of the General Assembly wanted to honor this tremendous achievement and formally recognize their hard work."
Player Tony Carmola was Northern Indiana Conference (NIC) MVP, and coach John Gumpf was named NIC Coach of the Year. Players Michael Dunkelberger and Tony Carmola were named to the NIC First Team, Alex Voss and Patrick Farrisee were named to the NIC Second Team and players Luke Houin and Kerry Zeese were awarded the NIC Honorable Mention.
"I am so proud of this baseball team who worked hard to secure a state championship title," State Rep. Dale DeVon (R-Granger), who is sponsoring the resolution in the House of Representatives said. "Congratulations to these students, along with the coaches and parents who have done an outstanding job in motivating and helping these kids achieve success."
State Sen. Ryan Mishler (R-Bremen) and State Sen. David Niezgodski (D-South Bend) are also co-authors of SCR 16. State Rep. B. Patrick Bauer (D-South Bend) is also sponsoring the resolution in the House.
-30-