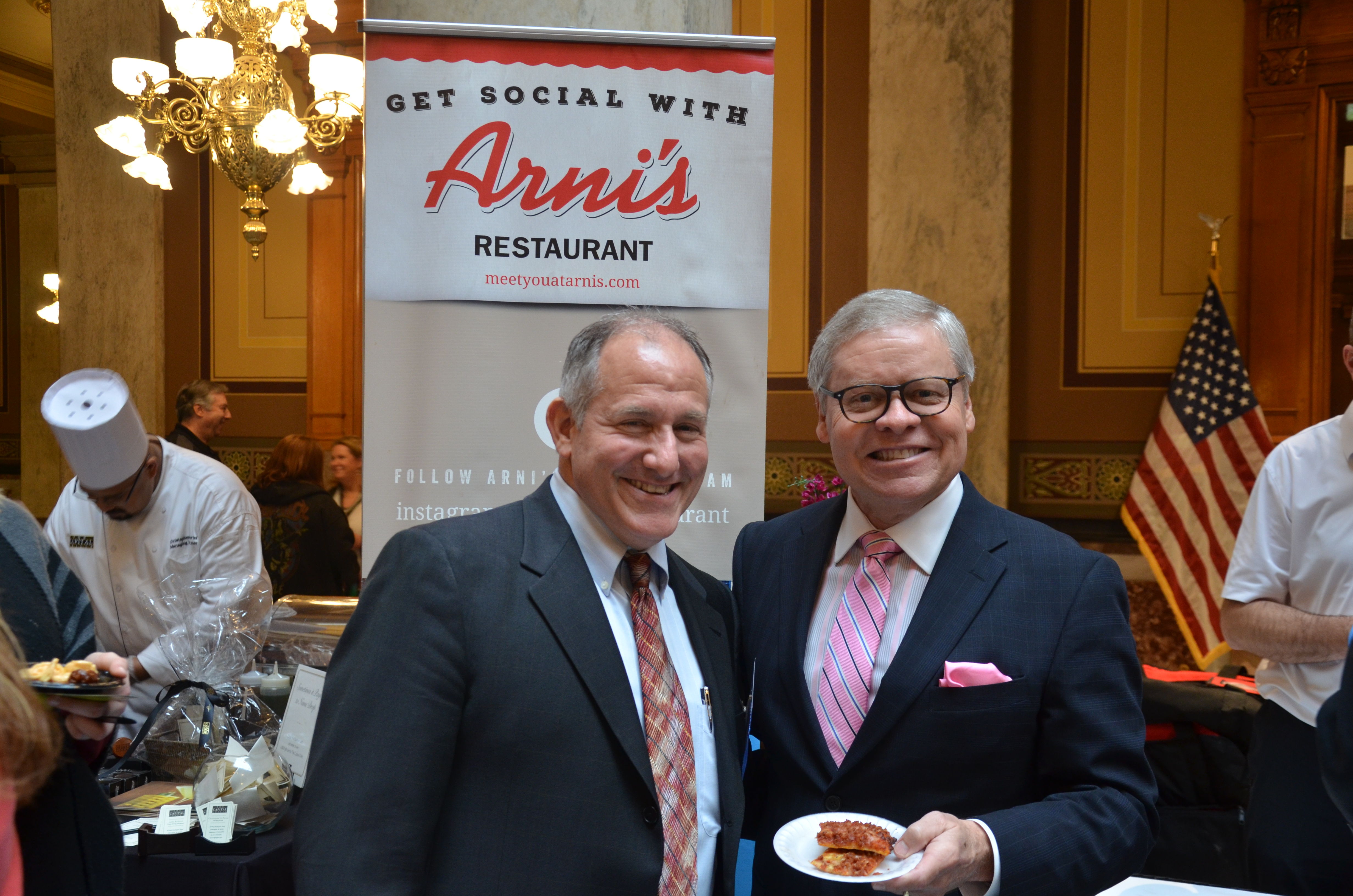 STATEHOUSE (Feb. 21, 2018) — State Sen. Ron Alting (R-Lafayette) welcomed Arni's co-owner Brad Cohen to the Statehouse Tuesday, Feb. 21. Arni's Restaurant participated in the Taste of Hoosier Hospitality Luncheon hosted by the Indiana Restaurant and Lodging Association (INRLA).
Each year, the INRLA organizes Hospitality Leadership Day, which gives Indiana restaurants the opportunity to meet with their local legislators, network with other industry leaders and host a sampling table at the Statehouse.
"After owning and running restaurants for around 15 years, I know how much dedication, hard work and innovation it takes to be successful as a small business," Alting said. "Each year I look forward to this special day to spend time with local restaurateurs and discuss small business issues. I have always made it a priority to support legislation that benefits and enhances small businesses because they are a vital part of the Indiana economy and add character to our communities."
According to the U.S. Small Business Administration, Indiana small businesses employed 1.2 million people in 2017, which is 45.5 percent of the private workforce. The Indiana Small Business Profile report showed that small businesses have created 16,878 new jobs, which contributes to Indiana's low unemployment rate.
Arni's Restaurant was founded in 1965 by Arni Cohen, with the flagship restaurant at Market Square Shopping Center in Lafayatte. The restaurant is now owned by Arni's two sons, Kurt and Brad Cohen. Arni's operates 18 restaurants throughout Central and Southern Indiana, as well as Linarco Distributing Company, a food production and distribution facility.
Arni Cohen was a board member of the INRLA and was elected to the INRLA Hall of Fame in 2002. PMQ Pizza Magazine recently inducted Arni's into the Pizza Hall of Fame.
Last March, Arni's received the Governor's Half Century Business Award for its more than 50 years of service.
-30-
A photo of State Sen. Ron Alting and Brad Cohen is attached.
For a high-resolution photo of Sen. Alting, click here.

Contact: Lauren Beatty, Press Secretary
Lauren.Beatty@iga.in.gov
317-234-9221