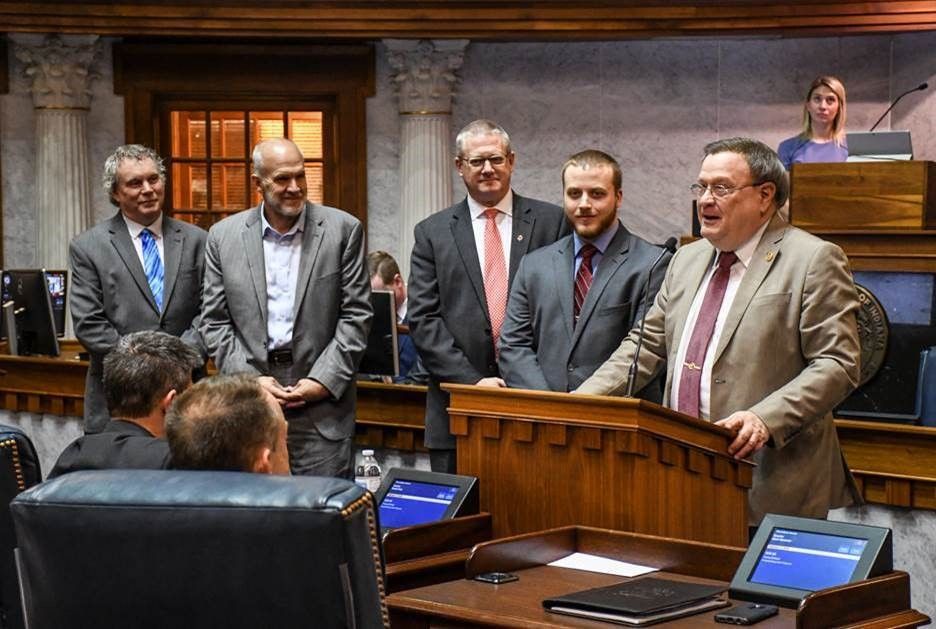 State Sen. R. Michael Young (R-Indianapolis, right) honors Adam Ferguson (second from right), the 2020 Plainfield Community School Corporation Teacher of the Year, at the Statehouse Tuesday, Feb. 11, with Senate Concurrent Resolution 25.

Ferguson taught for two years at Northwestern High School in Kokomo, and for the past six years he has been teaching Cultural History of the American People, We the People, Dual Credit U.S. History and Advanced Placement Government at Plainfield High School. Ferguson also serves on several school committees and as the sponsor of the Plainfield National Honor Society and Riley Dance Marathon.
The teacher of the year process includes nominations from the public, with the final selection committee made up of school and community stakeholders.
-30-
Also pictured are Scott Flood, president of Plainfield Community School Corporation Board of School Trustees (left), Scott Olinger, Superintendent of Plainfield Community School Corporation (second from left), and Melvin Siefert, principal of Plainfield High School (center)