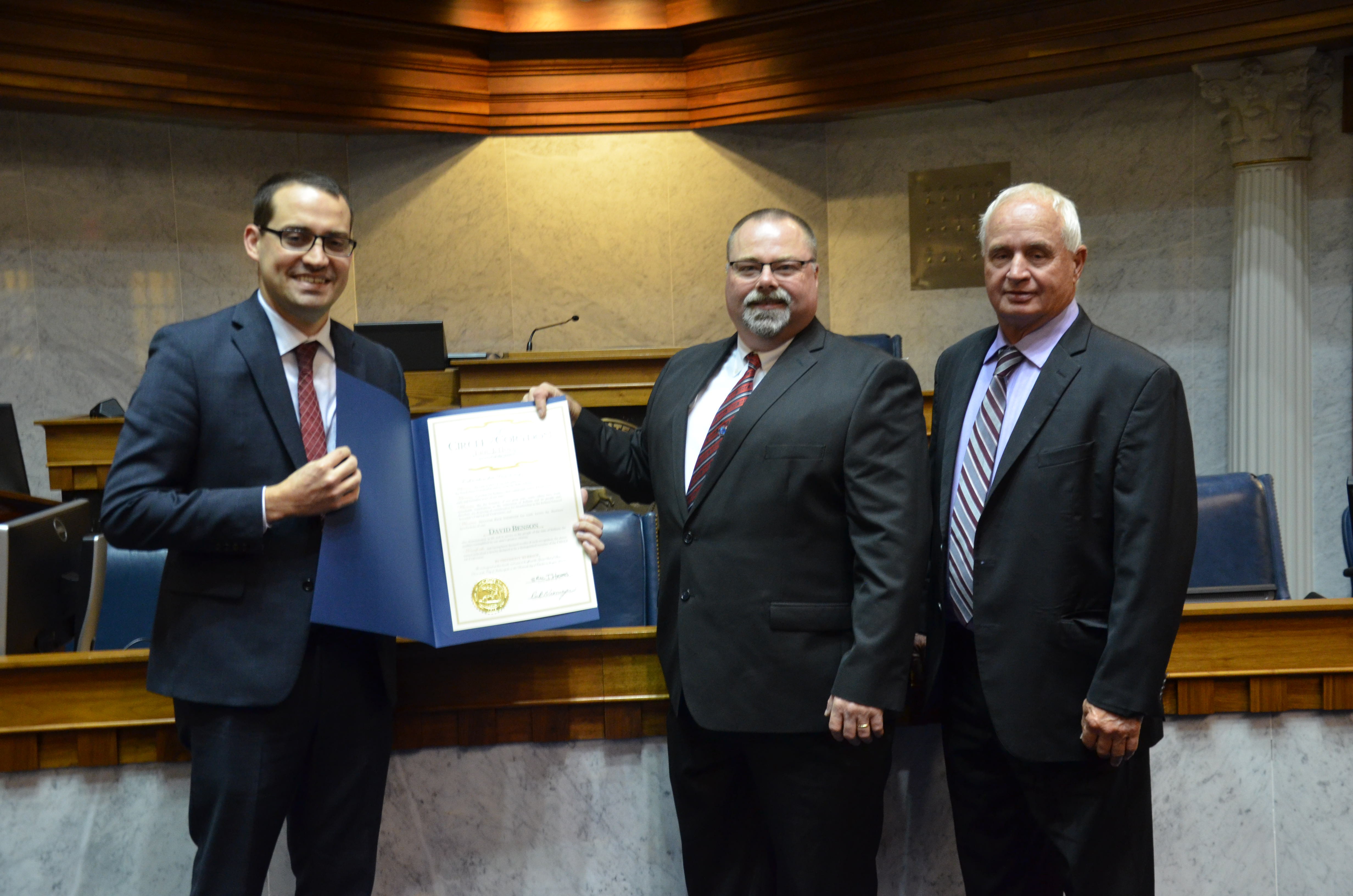 Chris Creighton, state legislative director for the Office of Gov. Eric Holcomb (left), and State Sen. Rick Niemeyer (right) present Sgt. David Benson (middle) with a Circle of Corydon Award.
STATEHOUSE (Oct. 22, 2019) — State Sen. Rick Niemeyer (R-Lowell) today presented Sgt. David Benson with the Circle of Corydon Award for his service and commitment to the Crown Point community.
The Circle of Corydon Award, which recognizes exemplary citizens who have made significant contributions to the betterment of Indiana, is an award given by the governor of Indiana. The award is the second-highest honor an Indiana resident can receive.
Benson has served Crown Point as a Drug Abuse Resistance Education (D.A.R.E.) instructor for the past 12 years. During this time, he has taught at each of Crown Point's public and private elementary schools, consisting of more than 600 students annually.
This year he was named D.A.R.E. Indiana Officer of the Year for his work in educating Crown Point students on how to lead lives free from violence, substance use and other dangerous behaviors.
In 2018, he was also named the Crown Point City Employee of the Year for his efforts in the D.A.R.E program.
"It's a pleasure to present Sgt. Benson with the Circle of Corydon Award," Niemeyer said. "Benson is a true example of what it means to be a public servant, and his passion for encouraging students to lead a clean life has made a positive impact on many young Hoosiers, their families and teachers. Congratulations, Sgt. Benson, and thank you for your commitment to serving our community all these years."
For more information on the D.A.R.E. program, click here.
-30-
For a high-resolution photo of Niemeyer, click here.