FOR IMMEDIATE RELEASE
Contact: Kellyn Harrison, Press Secretary
Kellyn.Harrison@iga.in.gov
317-232-9498
Kurtis Karg, Press Secretary Intern
Kurtis.Karg@iga.in.gov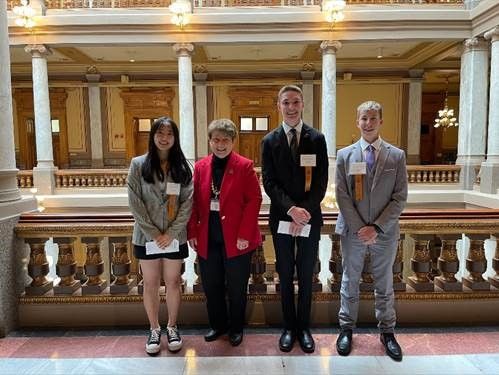 LEISING WELCOMES LOCAL STUDENTS TO THE STATEHOUSE: State Sen. Jean Leising (R-Oldenburg, left center) welcomes local students from Decatur, Franklin and Jennings counties to the Statehouse Wednesday, March 22, where they served as Senate pages for the day. The students are involved with local Rural Electric Membership Corporations (REMCs) and visited as part of the Indiana Electric Cooperatives' group page day. The group toured the historic building and learned about the legislative process. Leising had the opportunity to meet the students and answer their questions about state government.
-30-
State Sen. Jean Leising (R-Oldenburg) represents Senate District 42, which includes
Decatur, Fayette, Ripley and Rush counties, and portions of Franklin, Jennings and Shelby counties.
Click here to download a high-resolution photo.