FOR IMMEDIATE RELEASE
Contact: Kellyn Harrison, Press Secretary
Kellyn.Harrison@iga.in.gov
317-232-9498
Kurtis Karg, Press Secretary Intern
Kurtis.Karg@iga.in.gov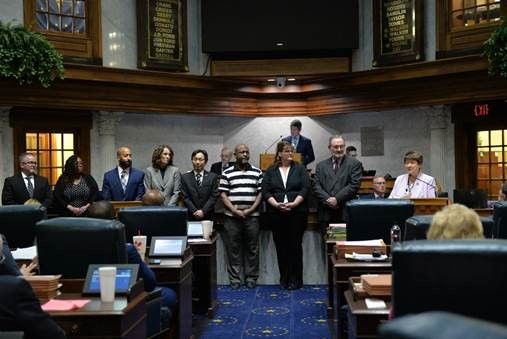 LEISING CONGRATULATES HONDA INDIANA AUTO PLANT ON 15 YEARS: State Sen. Jean Leising (R-Oldenburg, podium) congratulates the Honda Indiana Auto Plant on 15 years of operations with Senate Resolution 39 at the Statehouse Monday, April 10.
The Honda Indiana Auto Plant, located in Greensburg, currently employs 2,600 associates from Decatur and surrounding counties and has the capacity to produce 250,000 vehicles a year, making the plant an integral part of Indiana's economy.
The plant also supports community-based organizations, including the Decatur County United Fund, Decatur County Community Schools, Decatur Shelby County YMCA, Greensburg-Decatur County Public Library and the Hospital Foundation of Decatur County.
For more information about SR 39, click here.
-30-
State Sen. Jean Leising (R-Oldenburg) represents Senate District 42, which includes Decatur, Fayette, Ripley and Rush counties, and portions of Franklin, Jennings and Shelby counties.
Click here to download a high-resolution photo.