FOR IMMEDIATE RELEASE
Contact: Kellyn Harrison, Press Secretary
Kellyn.Harrison@iga.in.gov
317-232-9498
Kurtis Karg, Press Secretary Intern
Kurtis.Karg@iga.in.gov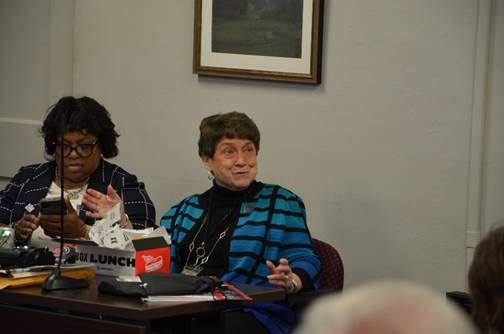 LEISING CHAIRS FINAL RURAL CAUCUS OF 2023 LEGISLATIVE SESSION: State Sen. Jean Leising (R-Oldenburg) chairs the final Rural Caucus meeting of the 2023 legislative session at the Statehouse Wednesday, April 5.
The caucus spoke with the Indiana Department of Transportation Legislative Affairs Director Andrea Zimmerman and Director of LPA/MPO Grant Administration Kathy Eaton-McKalip to discuss infrastructure funding opportunities for local communities. Additionally, they heard from Indiana Operation Lifesaver Executive Director Jessica Feder on railroad safety.
"As chair of the Senate Committee on Agriculture, I am pleased with the conversations we have had in Rural Caucus this session and I look forward to continuing them to better address concerns rural communities are facing today," Leising said.
-30-
State Sen. Jean Leising (R-Oldenburg) represents Senate District 42, which includes Decatur, Fayette, Ripley and Rush counties, and portions of Franklin, Jennings and Shelby counties.
Click here to download a high-resolution photo.