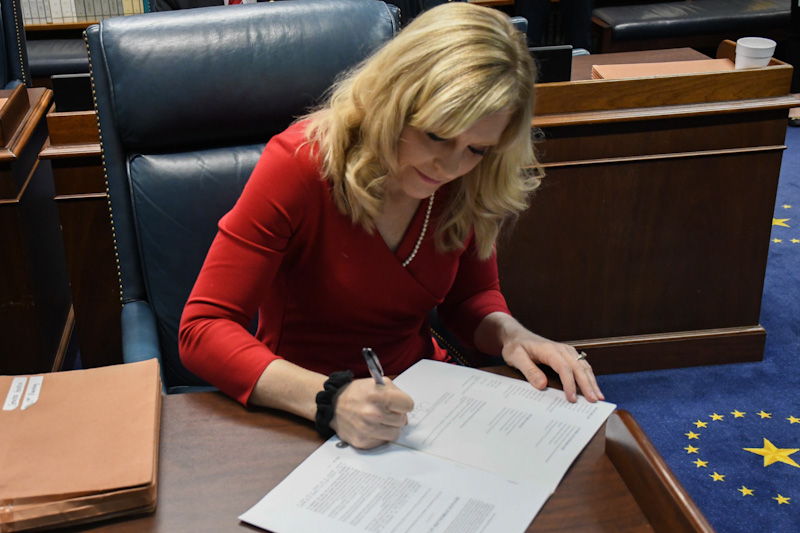 STATEHOUSE (March 11, 2020) – Legislation authored by State Sen. Erin Houchin (R-Salem) to improve educational outcomes for students with disabilities has unanimously passed both the Indiana State Senate and House of Representatives. Houchin filed the bill after she became aware that certain accommodations for students with disabilities were prohibited by the Indiana Department of Education (DOE) on portions of the state's standardized annual assessments.
Senate Enrolled Act 346 requires the DOE to provide certain accommodations to students in grades 6-12 on every section of these assessments, to the extent permitted under federal law, if such accommodations are included in the student's individualized education program (IEP) or 504 plan. This includes text-to-speech (TTS), screen reader, or human reader accommodations, and calculators.
"Giving students with certain disabilities access to much-needed accommodations on statewide assessments is common sense, and I know this legislation will make a world of difference to so many Hoosier children," said Houchin. "Not allowing these students the use of accommodations, which are available to them in the classroom, when they take standardized tests only serves to highlight their disabilities instead of letting them demonstrate what they know."
SEA 346 also establishes a task force which will, for one year, research the extent to which these same requirements could apply to students in grades 3-5 without violating the Every Student Succeeds Act.
"During testimony in both the Senate and the House we heard testimony from various stakeholders, including the Department of Education's Assessment Division. There is a question about how our English-Language Arts (ELA) standards are currently written for grades 3-5, and whether allowing certain accommodations, like screen readers, would invalidate any results. As a result, the bill establishes a task force to examine the extent to which our ELA standards should be modified in order to give teachers, students and their parents a true representation of our students' abilities. I have confidence that the task force established by SEA 346 will conclude that all students can and should be given the tools they need to show their true achievement," said Houchin.
SEA 346 also requires schools to notify parents of children in grades 3-5 with certain disabilities if their child will not be given the accommodations specified within their IEPs or 504 plans when they take standardized tests and allow the parents of these students to opt their children out of applicable sections.
Additionally, this legislation requires at least one member of the State Board of Education be a licensed special education teacher or special education director at the time of their appointment to the board.
"It is vitally important that we have a voice for Special Education students on the State Board of Education, and I am grateful to my colleagues in the General Assembly for recognizing and supporting this needed change," added Houchin. "I also want to thank the numerous partners who assisted in crafting the final bill. SEA 346 is a huge step forward for our Special Education students and I am eager to see the improvements we can continue to make."
SEA 346 now goes to the governor for his consideration and final approval.
-30-
Click here for a high-resolution photo of Sen. Houchin.

Attached is a photo of Houchin signing Senate Enrolled Act 346 so it can move to Gov. Holcomb for his signature