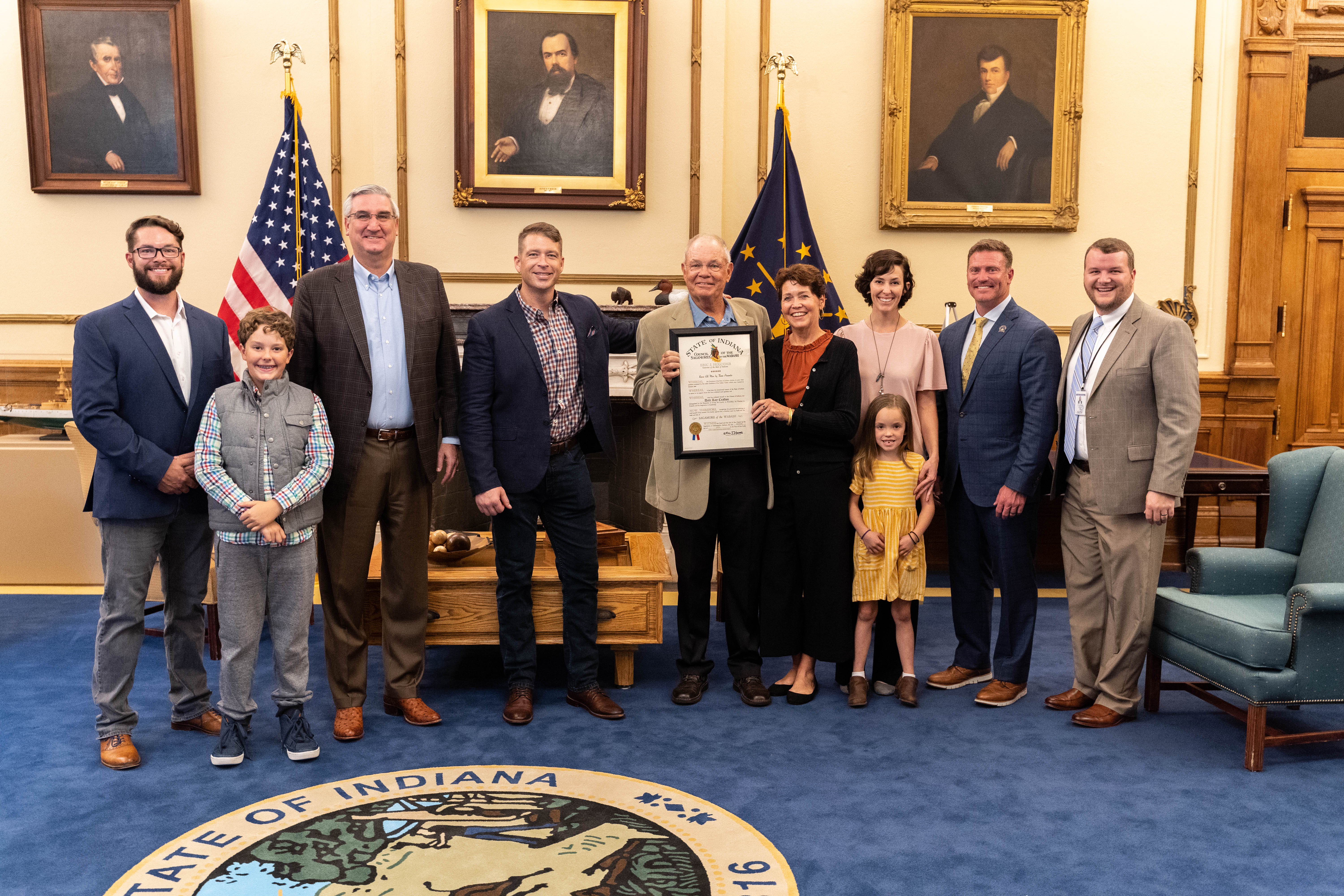 STATEHOUSE (Oct. 28, 2019) — State Sen. Chris Garten (R-Charlestown, pictured second from right), along with Gov. Eric Holcomb (pictured third from left), presented Hanover resident Dale Crafton (pictured fifth from left) with a Sagamore of the Wabash Award in the governor's office Monday, Oct. 21.
The Sagamore of the Wabash Award is the highest honor bestowed on a citizen by Indiana's governor, and serves as a tribute to those who have rendered a distinguished service to the state.
Garten requested Crafton, a retired active-duty veteran, receive the Sagamore of the Wabash Award for his heroics while serving in the Vietnam War as well as his career of service in public education.
Crafton volunteered to enlist is the Army when he was only 17, making him one of the Army's youngest 2nd Lieutenant's in history.
In 1966, Crafton received two Silver Stars with Oak Leaf Clusters for bravery while in Vietnam for instances that happened three months apart. In two nearly identical situations, Crafton and his platoon were outnumbered and ambushed by the Viet Cong. During both, Crafton had complete disregard for his personal safety and risked his life to outmaneuver the enemy.
In total, Crafton received 13 medals and citations during his service in Vietnam, including a Bronze Star for Valor, a Bronze Star for Meritorious Service, a Purple Heart, a Good Conduct Medal, the Vietnam Service Medal, the Vietnamese Campaign Ribbon and the Combat Infantryman Badge.
After retiring as a 1st Lieutenant in the Army, Crafton received a bachelor's degree and doctorate in education. He spent eight years as a varsity basketball coach followed by 22 years as a vice principal and principal. Crafton went on to become a PGA Pro, is a past President of the Indiana High School Athletic Association, and has co-authored a book with his wife Kathy.
"Dale Crafton is the embodiment of a selfless public servant. I couldn't think of a better person to receive Indiana's highest honor," Garten said. "He risked his life in combat multiple times while in Vietnam, and then he returned home and continued serving his community, state and nation by dedicating 30 years to a career in public education. Dale's strong moral character is unparalleled and he is in constant pursuit of excellence. Congratulations to Dale and his family, he is truly deserving."
For more information on the Sagamore of the Wabash Award, visit www.in.gov/portal/files/Sagamore.pdf.
-30-