FOR IMMEDIATE RELEASE
Contact: Kellyn Harrison, Press Secretary
kellyn.harrison@iga.in.gov
317-232-9498
Kurtis Karg, Press Secretary Intern
Kurtis.karg@iga.in.gov
Byrne: Jacob T. McClanahan road renaming
resolution passes Senate
STATEHOUSE (Feb. 16, 2023) – A resolution authored by State Sen. Gary Byrne (R-Byrneville) memorializing Jacob T. McClanahan passed the Senate unanimously today.
Requested on behalf of the Corydon community and Harrison County Council and commissioners, Senate Concurrent Resolution 6 would rename a stretch of State Road 135 after McClanahan. The stretch will begin at School Lane and span toward Palmyra.
"Jacob's selfless dedication to his community has been very apparent through the overwhelming support my office has received for the resolution and the gratitude our community has shown for his family," Byrne said. "I have been honored to carry this resolution through the Senate on behalf of Jacob's family and our community. I hope renaming this stretch of road will ensure his sacrifice is never forgotten."
Born and raised in Corydon, McClanahan worked for the Harrison County Highway Department and served as a firefighter for Ramsey Volunteer Fire Department, Harrison Township Volunteer Fire Department, Leavenworth Volunteer Fire Department and New Middletown Volunteer Fire Department.
McClanahan was selflessly assisting a Palmyra police officer with a stranded motorist and tragically passed after being senselessly shot by the motorist.
SCR 6 will now move to the Indiana House of Representatives for further consideration.
For more information about SCR 6, click here.
Legislative calendars, agendas, vote tallies and proposed legislation can be found at iga.in.gov.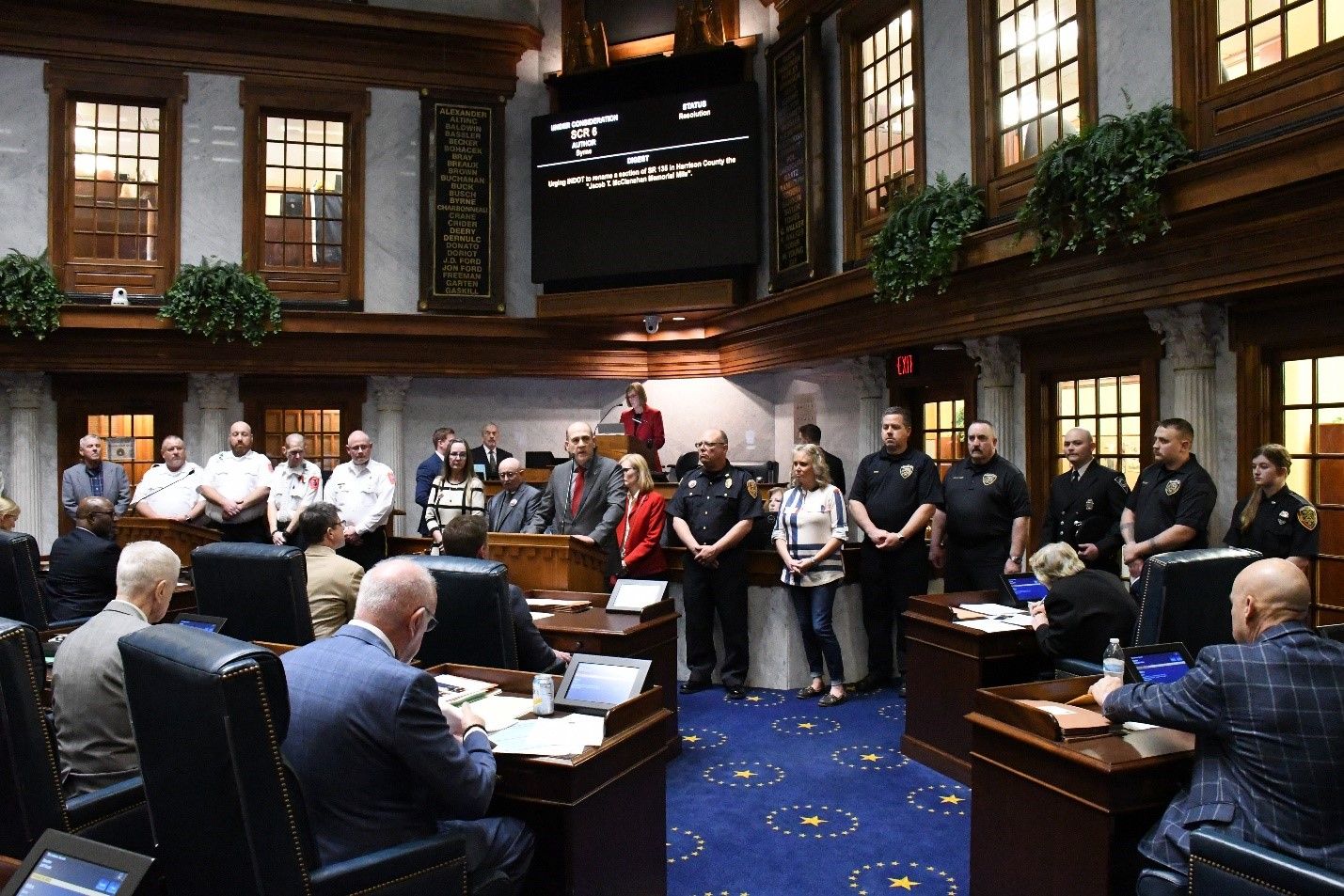 State Sen. Gary Byrne (R-Byrneville) memorializes Jacob. T McClanahan by presenting Senate Concurrent Resolution 6 with Senate District 47 emergency responders and McClanahan's family on the Senate floor Thursday, Feb. 16.
-30-
State Sen. Gary Byrne (R-Byrneville) represents Senate District 47,
which includes Harrison and Washington counties, and most of Floyd County.
Click here to download a high-resolution photo.