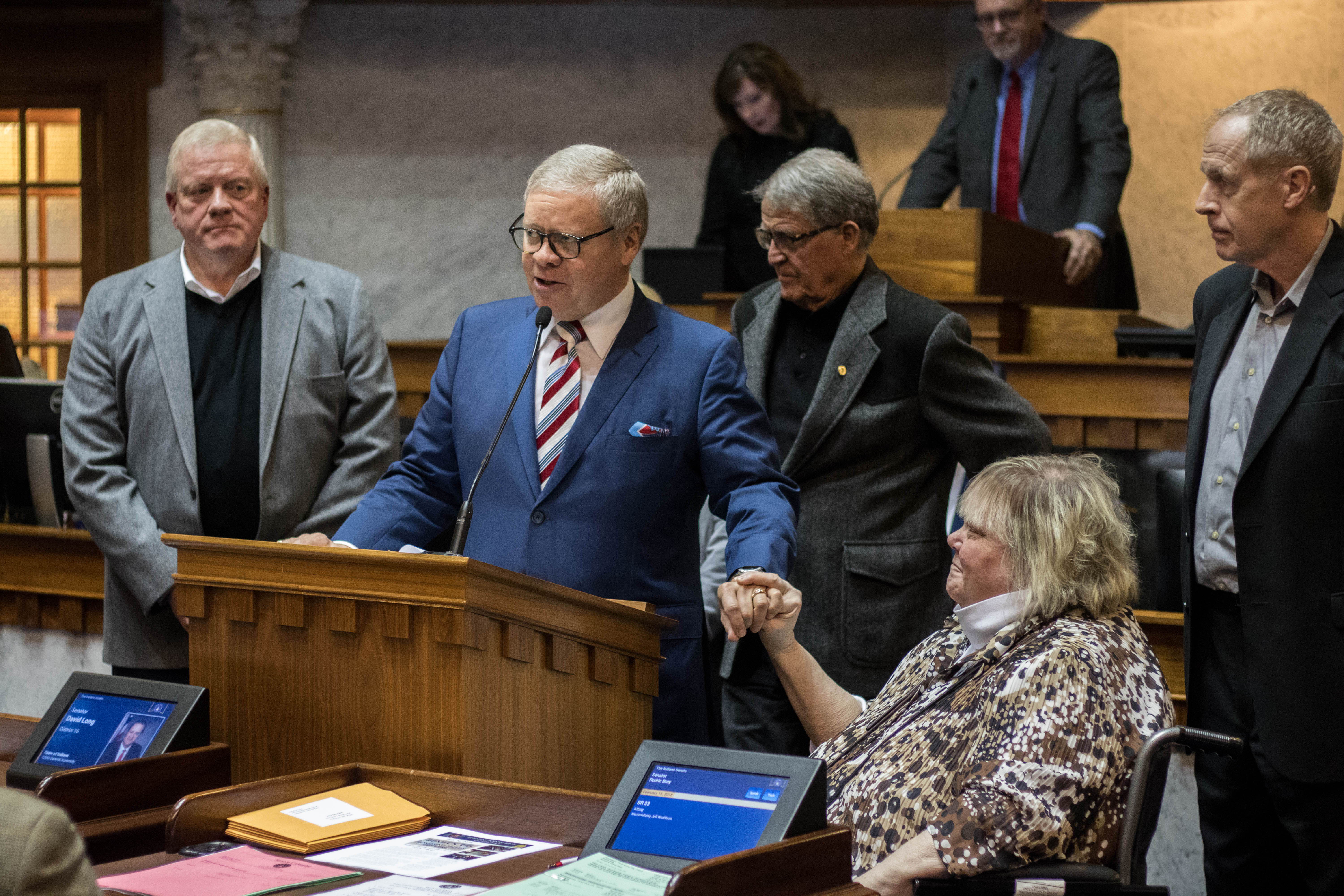 STATEHOUSE (Feb. 20, 2018) — State Sen. Ron Alting (R-Lafayette) honored Jeff Washburn, legendary sports writer for the Lafayette Journal and Courier, by presenting a special resolution to his wife and family members last week in the Senate Chamber.
"I have never met a person more passionate about his career than Jeff Washburn," Alting said. "It is a blessing to go to a job every single day and love it, and to be extremely good at that job. That was Jeff. He had three offices—the baseball diamond, the basketball court and the football field. I became good friends with him when I was a part of the Lafayette Jefferson High School state finals basketball team. Jeff was so modest and humble and he will forever be a legend in the sports reporting world and our community."
Washburn won the Indiana Sportswriter of the Year Award in 1991 and many other writing awards during his career. He covered every Indiana high school boys' basketball state finals from 1976 to 1994.
In 1994, he was assigned to cover Purdue basketball, an assignment he held for nearly 20 years until his departure from the paper. He continued to cover the Boilermakers for other news outlets, until the day before his passing, when Purdue won against Louisville in Mackey Arena earlier this season.
Washburn authored three books: "Tales from Indiana High School Basketball," "Gene Keady: The Truth and Nothing But The Truth," and "A Fantastic Ride," the autobiography of Midwest car dealer Bob Rohrman. He was also inducted to the Indiana Basketball Hall of Fame in 2011.
-30-
For a high-resolution photo of Sen. Alting, click here.

Contact: Lauren Beatty, Press Secretary
Lauren.Beatty@iga.in.gov
317-234-9221